About TJ Mold & Tool Co, Inc.
Vermont based full service tool and die facility
Manufacturer of wax injection molds for the investment casting industry's lost wax process.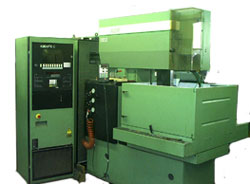 • Two Trak K3 2 axis CNC knee mills w/Prototrak A.G.E. 2 controllers, travels of 32"x16"x16"

• Sharpe Model OMV 2 axis CNC knee mill w/Prototrak A.G.E. 2 controller, travels of 32"x16"x18"

• Trak DPM V7 3 axis CNC bed mill w/full surface machining capability travels of 60"x23"x20.5"

• Trak TRL 1745P lathe w/Prototrak LX2 controller

• Okamoto 16"x32" surface grinder w/full automatic capability (wet or dry)

• Okamoto 6"x18" surface grinder, hand feed (wet or dry)

• Harig 6"x 12" precision surface grinder

• Mitsui 6" x 12" precision ball way surface grinder

• Agie Agiecut 100 4 axis Wire EDM

• Hansvedt sinker EDM machine model SM-150B, 13"x 20"x 9", with full 3R tooling

• Johnson horizontal band saw (capable of cutting 10" round / 13" plate)

• DoAll Vertical band saw (2 speed, 15" throat)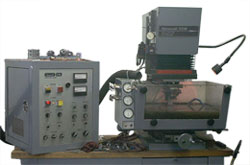 • K.H. Huppert heat treat oven
(8"x 8"x 12" high temp 1850+ deg.)

• Clark hardness tester

• Lars cutter grinder (model # 500)

• Baldor pedestal carbide tool grinder

• Torch cutting and mig / arc welding capabilities

• 1000# platform lift / 2000# Clark forklift

• 45 ton H-Frame shop press, Dake #1 arbor press

• 7 ½ hp 80 gal air compressor (100+ psi), 15 hp 120 gal air compressor (100+ psi)

• Snapon Abrasive Blast System (23" x 34")

• Chem Wash industrial cleaning tank, 20"x 36"x 16"

• Brown & Sharpe Validator model #8101 manual CMM w/ Renishaw MIP probe head (measuring range X=27", Y=24", Z=18")

• 36"x 48"x 8" Rock of Ages granite surface plate, (2) 24" x 36" x 4" two ledge shop grade surface plates

• 24"x 36" x 4" AA Inspection grade surface plate

• Jones & Lamson 14" optical comparator w/ reflection attachment

• Full compliment of hand, bore, and inspection measuring equipment

• Full office line (phone, fax, copier, computer, email, etc…), Dell workstations for utilizing CAD/CAM

• Adobe Acrobat for creating and viewing PDF documents for quotes via email.([email protected])

• TJ Mold's engineers are well versed in many of the most known & not-so well known Cad software. Just let us know which format you will be using & our engineers will likely be able to work with it.

• Manufacturing shop space of 3300 sq. ft.
ASQ and SME certified Members
Servicing the aerospace, automotive, commercial industrial, and the medical device industries.
Vermont Manufacturer, Investment Casting Molds, Stamping Dies, Wax Injection Mold Design,
Checking Tools, Forming Die, Check Fixtures, Stationary Gages, Jigs