TJ Mold & Tool Co, Inc.
Wax Injection Molds, Dies and Molds Manufacturer
Manufacturer of wax injection molds specializing in the investment casting industry's lost wax process.

From concept to design, to construction, whether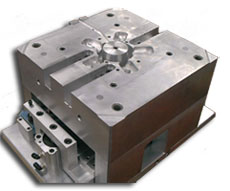 you need a single cavity, manual mold or a multi cavity, fully automated, water cooled, injection mold, we have the skill set to deliver just what you are looking for. We are a "one stop shop" for all of your wax injection mold needs. Our 3300 SQ ft facility in St. Johnsbury Vt. contains all of the machinery and inspection equipment required for producing high quality molds and dies.

TJ Mold and Tool Co, Inc. has been a top quality, precision, full service, tool and die shop for over 7 years with a combined experience for 46+ years. TJ Mold and Tool are ASQ and SME certified members.
TJ Mold can create a mold from your 2D or 3D drawing for the following molding needs: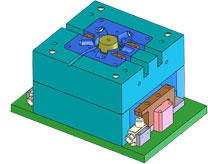 • Investment Casting Molds
• Wax Injection Molds
• Single & multi cavity molds
• Manual & fully automated molds
• Mold & Die Repairing
• Prototype Molds and Production Molds
• Scheduled maintenance
• Preventative maintenance

Stamping / Forming Die Design Capabilities:

• Stamping / forming die sizes up to 24" x 48"
• Stamping thicknesses from .010" x .120"
• Press dies can be designed for specified feed direction and part ejection method
• Stamping press dies are designed with easy dismantling of die components
directly on the press machine in mind
• Stamping / forming dies for low to high volume custom metal stamping jobs

The following are sample, but not limited to, the files types we can work with: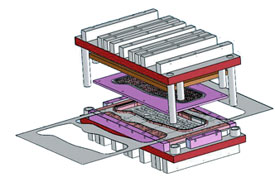 • IGES (.igs)
• AUTO CAD DXF (.dxf)
• .STEP (.stp)
• VDA (.vda)
• ParaSolid ASCII (.x_t)
• AutoCAD DWG (.dwg)
• AutoCAD DWF (.dwf)

ASQ and SME certified Members
Servicing the aerospace, automotive, commercial, industrial, and the medical device industries.
Investment Mold Design, Wax Injection, Fixtures, Casting, VT, Vermont Tool, Blow Molds
Die Repair, Stamping Dies, Precision Gages, Jigs, New England, US Manufacturer